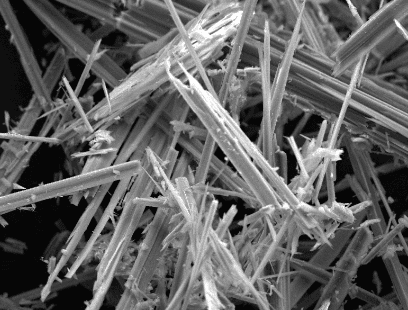 Do you believe you need asbestos abatement services for your residence or office? Before talking to a clean-up specialist, it's essential to know there are six asbestos types. These six types fall under two categories: serpentine and amphibole.
Serpentine Asbestos
There is only one asbestos type that fall in this category: chrysotile, also commonly known as white asbestos. It's composed of long, curly fibers and was mainly used in commercial and residential applications. Chrysotile was commonplace and used around the world due to its fireproof properties. This is the asbestos type most clean-up specialists find themselves removing during an asbestos abatement procedure. 
Amphibole Asbestos
Five asbestos types fall in the amphibole category:
Amosite

Crocidolite (blue asbestos)

Tremolite

Actinolite

Anthophyllite
These five minerals are made up of brittle and needle-like fibers. This characteristic makes them far more hazardous especially when inhaled. However, amphibole asbestos was used a lot less and was limited to just a few commercial applications. If an inspection reveals your building contains this asbestos type, then removal is highly recommended.
We Handle all Asbestos Types in Seattle
Is your home or business in need of asbestos removal in Seattle? Now that you know the different forms that asbestos can take and their risks, it's time to contact Affordable Environmental in Everett to talk about your remediation options with a professional. We have many years of providing industry services to countless residences and commercial establishments all over Seattle. Apart from asbestos removal, we also follow strict protocol in decontaminating the area and ensuring it's safe for human occupation. Though asbestos removal is our signature service, we also perform biohazard cleanup and demolition clean-up.
We Remove all Asbestos Types in Seattle
Serving Seattle, Everett, Kirkland, Bellevue, as well as those from Seattle to the Canadian Border, including Whidbey Island, Point Townsend & Oak Harbor
---
Posted on September 23, 2021 | Published by Ignite Local | Related Local Business