Asbestos Abatement and Removal Experts In Seattle
Affordable Environmental has provided top-notch asbestos survey and abatement services for over 30 years. Fully licensed and insured, we understand the importance of offering clean-up services at affordable prices. Contact us today to receive expert advice on your asbestos abatement and removal problem.
References from satisfied customers
Quality equipment & cleaning products
Well-trained technicians
100% satisfaction guarantee
Where is Asbestos Commonly Found?
The first step to identifying an asbestos problem is knowing where to look. While this material has been used in a wide variety of projects, some of the most common locations include:
Boilers
Furnace Ducts
Floor & Ceiling Tiles
Spray-On Fireproofing
Roofing Materials
Brake Pads
Insulation
Wallboard Compound
Popcorn Ceilings
Old Construction Products
Trusted Asbestos Abatement and Removal
For over 30 years, greater Seattle industry and home and business owners have trusted Affordable Environmental to provide expert asbestos abatement and removal services.
Asbestos Surveys
Asbestos Enclosure
Asbestos Encapsulation
Asbestos Complete Removal
Regulations regarding asbestos change frequently, so it's important to work with professionals to determine the best approach to your specific situation. Not all asbestos materials are cause for alarm; only those that are damaged or in poor condition may be a threat. Contact us today to schedule your inspection.
100% Satisfaction Guarantee
As a home or business owner, it may be tempting to tackle seemingly simple asbestos removal yourself but there are extensive training and licensure requirements that must first be met. For this and other safety reasons, it's always better to hire a professional for asbestos abatement and removal.
Professional asbestos specialists have the proper tools to complete the enclosure, encapsulation or removal.
Asbestos is dangerous, and exposure can result in serious health risks for you and your family.
Trained professionals know how to provide permanent solutions and can make appropriate adjustments when surprises occur.
Our professional clean-up company also provides demolition, bio-hazard and hoarding clean-up. Contact us to schedule an appointment today.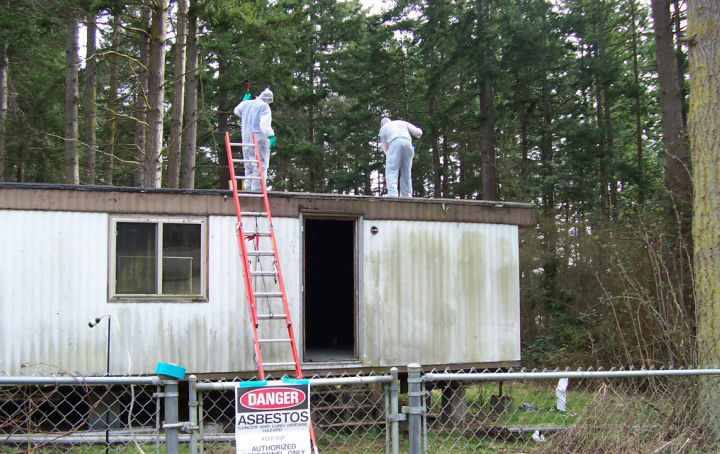 Expert Asbestos Abatement and Removal in Seattle and Western Washington
Serving clients from Seattle to the Canadian border, including Kirkland, Redmond, Bellevue, Issaquah, Woodinville, Bothell, Everett, Edmonds, Mill Creek, Lynnwood, Marysville, Arlington, Mt. Vernon, Burlington, Bellingham, Whidbey Island, Point Townsend & Oak Harbor